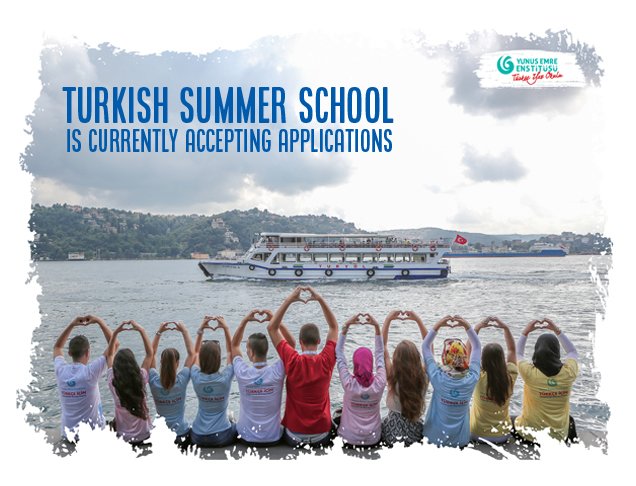 Deadline : March 31,2018
Date : July 16 to August 12,2018
Location : Turkey
Type : Fully-funded
Description :
Since 2009, the Yunus Emre Institute has offered students from around the world the opportunity to study the Turkish language in Turkey. Students are able to attend classes that correspond to the level of their skill in the Turkish language. Students who have never taken Turkish before, as well as those who have studied it for years, are able to improve their language skills through classes that are taught entirely in Turkish, allowing for an immersive experience.
The 2018 Turkish Summer School will run from July 16 to August 12, 2018. The entire cost of the program, including the flights to and from Turkey and the meals on the program, will be covered by the Yunus Emre Institute.
Students will be separated into groups and will live in cities across Turkey. With seven regions comprising of 81 cities, every group will have their own unique experience during the program. Scattered across Turkey, each group will live in their own city. From that city, they will venture out on the weekends to experience more of the region that they are living in and the unique subcultures that can be found in each one.
During their stay in Turkey, students will be housed in either university dorms or guest houses.
Every morning, Monday through Friday, students will have class for three and a half hours. The classes are taught entirely in Turkish, allowing for an immersive environment.
Students will have totally 60 hours Turkish classes during the program.
Eligibility :
Everyone between 18-35 year old can join the programme;
Participants should not have participated to Turkish Summer School previously;
Participants should hold a non-Turkish citizenship;
It is important participants to be competible with large groups of different people, social and willing to be part of a multicultural team;
Anyone holding above criterias as well as keen on exploring new things within a full month of learning are welcome joining this programme!
Fun bit is already guarenteed!
Click here for more information